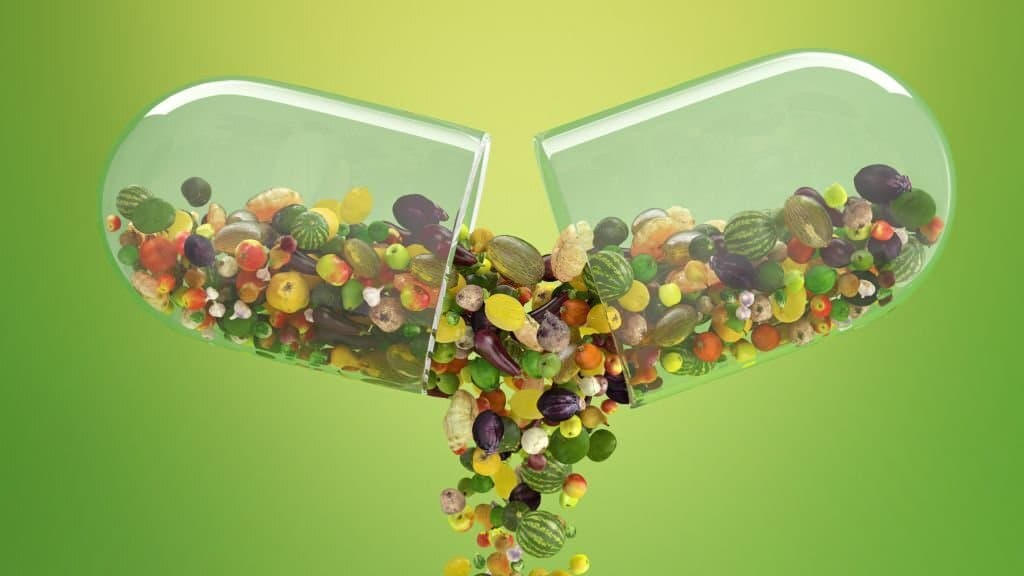 Cultivating a healthy lifestyle through the proper diet and exercise has apparent benefits. According to Harvard Health, staying active and eating the appropriate diet improves your chances of living longer, protects you from developing certain types of cancers, and improves your cardiovascular fitness. In addition to these benefits, you'll also feel happier and more confident.
There are many ways to supplement your health regimen. One of the more practical methods is to take a supplement such as fruit and vegetable supplements.
Fruit and Vegetable Supplements – What Are They?
Also known as vegetable pills, these tablets are dietary fiber supplements that are designed to add nutrients you may be deficient in as part of your diet.
There is a broad range of fruit and vegetable vitamin supplements available when it comes to these pills. For example, green vegetable vitamin supplements are made from vegetables like spinach, broccoli, tomato powder, oats grass, apple fiber and beat powder.
On the other hand, red vitamin supplements are made out of vegetables like tomatoes, beets, and fruits like cherries.
Red vitamin supplements are rich in antioxidants like Anthocyanins. To better understand vegetables and their health benefits, it is also imperative to know just exactly what vegetable pills contain.
Vegetables and Nutrients
The types of health benefits, vitamins, and minerals that you gain from vegetable pills depend on what you are taking. One of the most popular options is natural vegetable blends.
According to Vitacost, their supplements contain 42 different kinds of fruits and vegetables, herbs, and cereal grasses. Two whole capsules contain 1,400 mg of vitamins, minerals, and anti-oxidants.
In general, you'll usually find that each tablet contains vegetables such as black currant, carrot, tomato, acai, goji berries, blueberry, barley, alfalfa, and chlorella. With these types of vegetables, fruits, and other substances, you can be sure that you are getting the nutritional benefits that you need.
5 Best Fruit and Vegetable Supplements on the Market
The internet has always been an attractive source for all of your daily health needs. Currently, if you are looking for a selection of vegetable and fruit pills, then you'll be able to find them at the specific sites. You can also be sure that you're getting the high-quality supplements you deserve.
For example, Balance of Nature Fruit and Vegetable Supplements are created out of green foods, superfoods, and multivitamins. These particular pills promote protein, carbohydrate, and fat digestion.
The tablets also support heart health and strengthen your bones through the addition of 500 mg of calcium. Several quality vendors offer other options like the Green Superfood blend, apart from the vegetable pills.
Choosing the best fruit and veggie supplements is easy if you know what to look out for. Avoiding GMOs, artificial colors and flavors, and adding sugar are all things you need to consider when choosing your supplement.
Below you'll find a list of fruit and vegetable supplements that work best on the market today.
1. KaraMD Pure Nature
KaraMD Pure Nature is an all-natural supplement that has been formulated using only the highest quality raw materials.
It is completely safe and does not contain any artificial colors, flavors, preservatives, or fillers.
KaraMD Pure Nature is made from 100% pure freeze-dried fruits and vegetables. They are then ground up and mixed together. This mixture is then put into gelatin capsules.
The main ingredient in this supplement is blueberry. Blueberries are rich in anthocyanins, antioxidants, vitamin C, fiber, and manganese.
The recommended dosage of this supplement is one capsule twice daily.
If you are looking for a high-quality supplement, then you should definitely consider purchasing this product.
2. Natrol JuiceFestiv Daily Fruit & Veggie Capsules
JuiceFestiv capsules are made from real fruit and vegetables. The best part about these capsules is that they taste great!
You won't even notice that you're taking them. These capsules have no added sugar.
These fruit and vegetable supplements are perfect for people who are watching their sugar intake or just don't like the taste of most supplements.
These veggie capsules work just as well as other products on the market.
They are great for increasing your intake of nutrients and improving your health. They are convenient and easy to take. With these capsules, you'll be receiving all the benefits of real, fresh produce.
The capsules contain 46 fruits and vegetables such as apples, carrots, celery, cucumber, grapefruit, kiwi, mango, orange, pineapple, papaya, peaches, pears, prunes, raspberries, strawberries, sweet potatoes, tomatoes, and watermelon.
3. Organifi
Organifi is the most delicious organic superfood. It contains Babylonian Wheatgrass and over 25+ cleansing, alkalizing, farm-fresh nutrients.
Over 23 pounds of ordinary garden vegetables can be eaten in just 1 ounce of Babylonian Wheatgrass, which ancient civilizations revered for its health and vitality boosting properties 5000 years ago.
This product works well for people who want to detoxify their system. It helps cleanse the body by eliminating toxins. Moreover, it also boosts the immune system and enhances energy.
This product uses Grass Juice Extract, which is 20 times more concentrated than other brands.
Cows' stomachs are not made for grass. So, this grass juice extract is more easily digested. You absorb the maximum amount of nutrients possible.
This vegetable supplement contains organic kale, broccoli, spinach, beet, parsley, tomato, moringa, wheatgrass juice powder, chlorella, elderberry extract, and more. All of these ingredients contain natural phytochemicals and chlorophyll to help fight free radicals in your body.
Organifi is certified organic and contains many nutrients. However, they may not provide third-party verification of the claims made on their website.
We recommend you read the labels on the products you purchase to determine whether or not they contain any allergens.
4. Balance of Nature Fruit and Vegetable Supplements
The Balance of Nature brand is a line of nutritional supplements that are designed to help people achieve optimal health.
The company was founded in 1997 by Dr. Douglas Howard, who has been working on clinical studies and researching the effects of phytonutrients on human health for over 20 years.
He created these fruit and vegetable supplements because he wanted to create something that would allow individuals to get the most nutrients possible from their food.
Today they offer whole food supplements that include vitamins, minerals, antioxidants, amino acids, and many other ingredients that can benefit an individual's health.
Their fruit and vegetable supplement products are made with only the highest quality natural ingredients and human-tested methods. Moreover, they are non-GMO, gluten-free, plant-based, vegan, and ketogenic.
Balance of Nature uses innovative flash-drying technology, which is a preservation technique to preserve fruit and vegetables. This method removes moisture from products using a vacuum and then freezes them until they reach -40 degrees Celsius.
Then, the product is put into a chamber containing nitrogen gas, which causes it to expand and burst out of the container. After this happens, the product is dried using high heat, thus preserving its nutrients.
Their veggie capsules are made with real 16 fruits & 15 veggies. You may improve your health by using them. Their blends may help your immune system, repair DNA and protect cells.
Balance of Nature has a 4-star rating on Trust Pilot. There are many positive reviews about the product. Some people complain about the customer service, but most of them say that the product works great.
5. Daily Greens Organic Superfood
Daily Greens Organic Superfood is an organic company that makes healthy food supplements. Their vegetable supplement contains 100% natural ingredients and does not use artificial chemicals, colors, flavors, GMOs, or pesticides.
Daily Greens Organic Superfood is a power-packed formula packed with antioxidants, whole foods, and superfoods. A single serving of this product is equivalent to 140 grams (about 4 1/2 ounces) of fresh grass juice.
This company uses flash drying technology to preserve its products. They do not lose nutritional value because they follow strict guidelines when making their products.
This product contains many kinds of vitamins and minerals. It also contains whole green grasses and other plants. It is packed with whole green foods, microalgae, sea veggies, whole vegetables, sprouts, seeds, legumes, and acerola cherries.
Daily Greens provides additional probiotic and prebiotic ingredients to support your digestive health and gut bacteria, thus creating a healthy environment in your body.
Because it is not a pill, you may find this product tastes awful. But it's much more powerful than any other powder green we've ever tried. You can't hide it because it bursts through the flavor of a protein shake. Mix it into a little water and chase it with some cranberry juice.
Raw vegetables are usually bitter tasting. This is because they haven't been cooked or processed. When you take them, you need to get used to the flavor. You may not like it right away, but you'll start to enjoy it after a while.
Why Take Them?
For example, they can help you build muscle, lose weight, and gain vital nutrients for your health. Concerning muscle growth, BodyBuilding Magazine indicates that vegetable supplements made out of various and colorful vegetables combat inflammation and reduce the damaging effects of unstable free radicals.
Also, green vegetable supplements are an excellent source of vitamin B. Vitamin B enables your body to convert the vitamins and minerals from the capsule into sustainable energy during your next workout.
In addition to muscle growth, supplements are also a convenient way to get your daily requirement of vitamins and minerals. According to Green Vibrance, vegetable supplements improve your body's circulation and support a healthy digestive tract.
Vegetable supplements can also assist the body in healing by providing nutritional support and the right minerals and vitamins for cell health.
You'll also notice that your body's other systems like your skin, respiratory, urinary, and endocrine will each improve their performance. You'll not only feel good, but your body will also perform optimally with the right vegetable supplements in your diet.
Suitable for Weight Loss
According to WebMD, pureed vegetables can help you lose weight because not only do they provide your body with the daily vitamin and mineral value that it needs, but the fiber from the food also allows your body to feel fuller for longer.
The same concept applies to vegetable supplements. Vegetable pills contain just the right amount of vegetables that are rich in fiber and other nutrients.
By incorporating these dietary supplements into your diet, you'll quickly get the fiber that you need to feel fuller longer.
You won't get those nagging cravings that cause you to snack on unhealthy food throughout the day.
Are Vegetable Supplements Right For You?
Vegetable supplements are ideal for individuals who are unable to get the recommended amount of fruits and vegetables per day.
According to the USDA, you should be consuming two cups of fresh fruit and vegetables if you are a healthy adult. Taking two pills per day can put you within this recommended range.
You should also consider taking vegetable supplements if you are looking for a quick and easy way to boost energy levels.
Summary
Choosing the right supplements for your dietary needs can significantly impact your health.
Vegetable pills are an excellent way to get the vitamins and minerals you need while also promoting weight loss, muscle growth, and a healthy body.