Water ionizers are gaining a lot of popularity since they provide people with healthy alkaline ionized water. Moreover, this alkaline water machine offers superior hydration and restore the body's pH balance, boosting the immune system and better health.
Before you buy a water ionizer for your own use, you should first read this buying guide to have a better grasp of the elements and components that make a good unit. This way, you'll know exactly what to look for.
4 Important Things to Consider Before You Buy Water Ionizer Machine
Before choosing the best water ionizer for yourself, there are certain essential factors that you need to consider. These include:
1. Plate technology
The plates are one of the most critical components of the ionization potential. The number of plates used in an ionizing water machine depends on the manufacturer and model. By understanding the plate technology, you can choose a unit that produces good quality ionized water.
When it comes to quality water ionizers, the plates are made from high-grade titanium, to which two layers of platinum are applied to make the electrical conductivity better. There are only two types of plates, flat or mesh.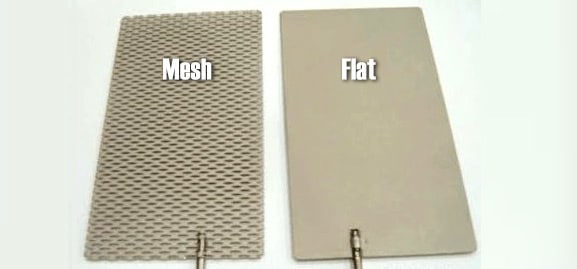 Flat plates are smooth and don't have any texture, only a titanium plate with a platinum coating.
In contrast, mesh plates are textured in several different ways, they are double coated with platinum, and they come in three basic designs: "true" mesh, hybrid mesh, and slotted mesh.
2. Computerized Control System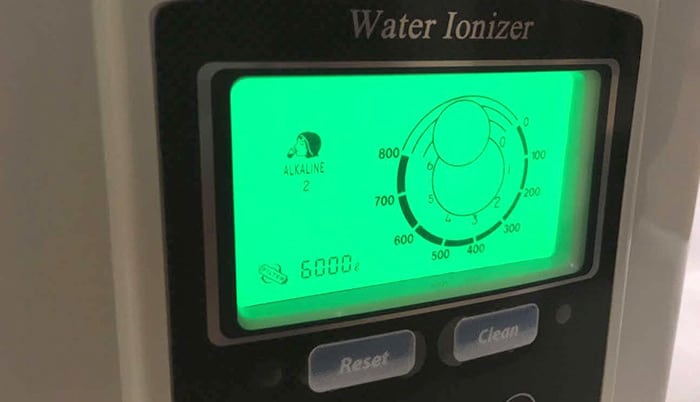 All devices and appliances have a "brain." The ionizer's "brain" is the computerized control system.
Water ionizers have basic mechanical control systems to ensure that the commands of the user are being done by the device, allowing for filter life monitorization, multiple pH level selection, and giving the user the ability to customize the unit's performance.
3. Filtration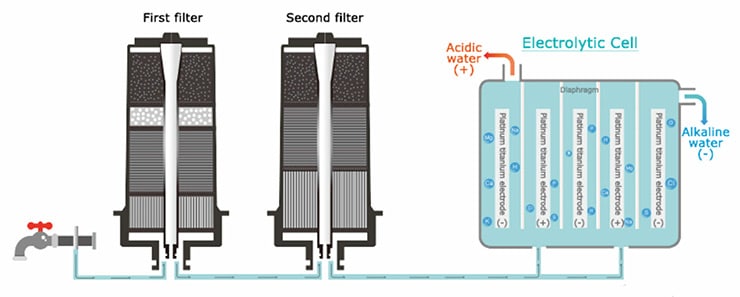 All water ionizers have an internal filter designed to remove lead, chlorine, and many other contaminants from the water they are ionizing.
These filtration systems vary depending on the manufacturer and model. Before buying the machine, you should test your tap water to know what contaminants you are confronted with to ensure that its filter will efficiently handle decontaminating it.
4. Power
The critical component to determining how effective a specific product will perform is the amount of power available for use during the ionization process.
Water ionizers generally range from 70-400 watts of power when they are at maximum performance levels. The water is "ionized" when a sufficient amount of electrical current is delivered to the water to cause its molecules to split, dividing into positive and negative ions.
You have to remember that the more electrical current gets delivered to the water, the greater the ionization potential is. Therefore you must pay careful attention to this aspect when buying the unit.
5 Best Water Ionizers and Alkaline Water Machine – Recommended by Most Users
Water ionizers in the price range of $3,000 are generally top-of-the-line units. The best alkaline water machines in this range come with eleven plates and have lots of power. You should also expect to get a lifetime warranty.
All water ionizer machines that are recommended below meet all three of these criteria:
These alkaline ionizers have eleven to thirteen plates

They offer lots of power, and
The best ones come with lifetime warranties
Be careful when ordering under-counter water ionizer machines. Some manufacturers use cheap plastic faucets that can break. The chrome plating also peels after a while on plastic faucets.
We recommend Tyent USA or Life Ionizers for under-counter units because their faucet is solid stainless steel. It won't break or peel.
Buyer beware: Don't be deceived. Some faucets look like stainless steel in their photos but are, in fact, cheap plastic. Make sure to ask before you buy!
Did you know that a slight change in pH is actually a big change in alkalinity?
A change from 9.5 to a pH of 9.6 is a 100% increase in alkalinity.

A change from a pH of 9 to 10 is a 1,000% increase in alkalinity!
If you need acid-fighting alkalinity to tackle tough health challenges, pay attention to those pH level numbers! 
1. Tyent USA ACE-13 / UCE-13 – $3,895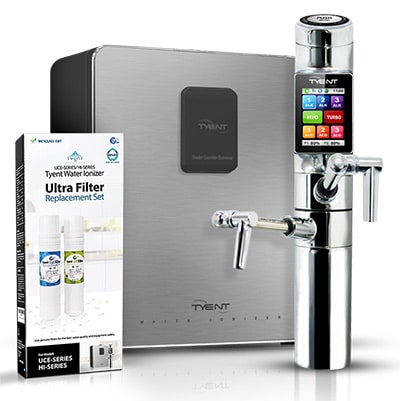 Tyent USA ACE-13/UCE-13 is a 13-plate ionizer machine hampered by high adjustable power and outstanding features.
It costs similar to other 13-plate water ionizer machines but performs better with its Turbo and Molecular Hydrogen Boosts.
It can crank out up to 800 watts of power, which gives it the ability to ionize even the toughest tap water.
Tyent USA ACE-13/UCE-13 is the newest 13 plate machine-made that costs less than $4,000. It gives the highest pH and ORP levels of all the machines reviewed in this list, and it has the highest water flow rate.
However, if your budget is under $3,500, go for the older model, which is Tyent ACE-11.
But you should not be worried about the budget because anyone can always apply for financing with 0% interest during your purchase through its Tyent Financing feature. A benefit that no other brands can offer.
Tyent USA has dual internal filters, and custom-configured filtration is available in this machine. Another catch is the warranty; Tyent USA offers a lifetime warranty for parts and labor. Note that ionizer machine parts are expensive when there's an issue with your machine. So a lifetime warranty offer is your best bet.
pH range: 1.7 – 12.5

ORP: Up to -1150
Filtration: Two internal filters
Warranty: Forever
Tyent USA's filtration is the best in the industry. If the purity of your water is crucial to you, a Tyent water ionizer is a way to go. You can't get better filtration.
2. Alkaviva Vesta H2 – $4,193
The Alkaviva Vesta H2 is a convertible ionizer. You can use it counter-top or under-counter with the addition of Life's faucet kit. The Alkaviva Vesta H2 is a powerful machine.
This water ionizer product has about 700 to 800 watts of power, and it's convertible. That massive amount of power is combined with the Vest H2's nine large plates to give ideal pH and ORP levels and a high flow rate.
pH range: 3.0 – 11

ORP: Up to -850
Filtration: Custom with two internal filters
Warranty: Lifetime parts and labor
Like all top-quality ionizers, the Alkaviva Vesta H2 comes with a custom filtration system configured by Alkaviva to target the toxins unique to your local water supply.
3. Life Ionizers MXL-13: $3,997 Counter-top
The third machine to make this list from Life Ionizers is the Life MXL-13. It's a convertible ionizer, so you can purchase it as a counter-top unit and later convert it to under counter use with Life's faucet kit if you choose to.
pH range: 2.0 – 11.8

ORP: Up to -880
Filtration: Custom with two internal filters
Warranty: Lifetime parts and labor
The MXL-13 comes with Life's custom-configured filtration system, so you get the purest, cleanest water possible.
According to Life Ionizers, this machine was initially designed for doctors and clinics. It makes medical-grade ionized alkaline water for tackling the toughest health challenges.
4. Chanson Revolution $2,895
The Chanson Revolution sounds great on paper, but its performance is nowhere near what Chanson claims when you actually put it to the test.
The company claims that the Revolution can reach a pH range of 1.8 to 12.1, but they don't tell you that you have to add salt to the water to get there.
Chanson also misleads about the platinum coating on their plates. They call it a 'nano-coating, which when you look into it is an extremely thin coating of platinum, thinner than any other ionizer in this price bracket.
The problem with adding salt is that the water it makes is poisonous; you can't drink it. Chanson boasts of having a Himalayan salt port, but adding Himalayan or any other kind of salt to your water ionizer is a terrible idea. When you electrolyze salt and water, it makes bleach.
Without salt, we could barely get the Revolution to reach a pH of 10. The problem with this machine is that it lacks power. It also has just a single filter, which is inadequate for removing the wide range of toxins found in tap water.
pH range: 5.7 – 10.1

ORP: Up to -485
Filtration: One internal filter
Warranty: 10 years parts and labor
Even the warranty is misleading: Chanson claims to have a "limited lifetime" warranty, but when you read the fine print, it says Chanson only expects the lifetime of their machine to be 10 years.
5. Alka Prime Nine Countertop $2,297, Undercounter $2,697
The Alka Prime 9 is the lowest cost countertop water ionizer in this review, but don't let its low price fool you. This quality-built machine is packed with features that make it superior to many other more expensive ionizers.
The Alka Prime comes with custom-configured filtration and dual internal filters, a feature you normally see only in the best water ionizers. It has 229 watts of power and nine large plates, which gives it good pH and ORP performance.
Alka Prime makes a few compromises to offer a discount price. It has a limited lifetime warranty on parts and a 10-year warranty on labor. It's not convertible.
pH range: 4 – 11

ORP: Up to -600
Filtration: Custom configured with two internal filters
Warranty: Limited lifetime warranty on parts and 10 years labor
You have to decide whether you want a counter-top unit or an under-counter unit. But overall, this is an excellent machine at a bargain price.
Which Alkaline Water Machine Should You Buy?
The three machines in this water ionizer comparison that we recommend are Life Ionizers MXL-9 and MXL-11, plus the Alka Prime Nine.
The MXL-11 is undoubtedly the best ionizer under the $3,000 price range. If your budget is maxed at $3,000, and you want an under-counter ionizer, then go for the Life M9 under counter.
If your budget is tighter than $3,000, go for the Alka Prime machine. Regardless of which machine you pick, you'll get excellent filtration and a solid, well-built machine.
5 Best Budget Alkaline Water Machines
In our opinion, the best value for those who have less money to spend is the Life Ionizers MXL series. These machines are great because they're affordable, easy to use and do a good job cleaning your water.
Their biggest drawback is that they lack some key features such as a timer and a built-in purifier. However, if you're willing to compromise on these things, then the MXL series is a great choice.
If your budget is less than $2,000, you may want to consider the best-selling water ionizers below.
1. The Aqua-Ionizer Deluxe 7 ionizer
The Aqua-Ionizer Deluxe 7 Plate Alkaline water ionizer is equipped with modern electroplate technology.
With platinum-coated plates, the water ionizer is deemed to be very durable. Its robust body is also able to resist erosion and oxidation.
This water ionizer is capable of purifying up to 1,500 gallons of water. Its components are also FDA-approved.
The Aqua-Ionizer is a viral machine, and many online reviews attest to its smooth, no-nonsense performance.
2. Jupiter JP107
The Jupiter Science Venus JP107 is easy to operate thanks to its touch screen display. It can run on one cycle, amounting to just 10 seconds per 20 liters of water.
The JP107 is also very durable and even comes with a lifetime warranty. These advantages should appeal to homeowners who are not yet sold on water ionizers' long-term viability.
The Jupiter ionizer is a good-looking machine and would not look out of place even in the most modern kitchen, so if you're looking for a new ionizer, we think you should certainly consider the JP107.
3. NewCell Stream Water Machine
You can get alkaline ionized water in a few seconds with the NewCell Stream Water Ionizer and Alkaline Water Machine.
This impressive machine from NewCell, one of the more trusted companies for water ionizer products, is straightforward to use. It also has an integrated LCD that can guide you in operating this appliance.
Alkaline ionized water produced by this water ionizer makes tap water a lot safer for your consumption. Ionized water can also protect you against contaminants often found in tap water and even filtered water. Ionized water also rehydrates your body faster.
4. Alkalux 2507 Ionizer
One of the major concerns homeowners have with water ionizers is the price. Water ionizers can be very expensive, with many high-end models costing a great deal.
But the Alkalux 2507 is a very cheap alternative, aside from having features that can rival those of high-end models.
The Alkalux 2507 has a seven plate technology that enables it to clean and purify water effectively. It also has an LCD touch screen display making it more convenient for users to operate it.
And because it produces alkaline ionized water, the Alkalux 2507 can provide many health benefits to those who use it, like rehydration and prevention of severe health issues like osteoporosis and cancer.
5. Life Next Generation M11 Counter-top
Drinking tap water can be dangerous to your health. Meanwhile, buying distilled water all the time can be very costly over the long run. So why don't you invest in a water ionizer like the next generation M11 counter-top from Life Ionizers?
Although the Life Water Ionizer Next Generation M11 counter-top is quite expensive, it is an efficient investment.
Not only does it make water clean and better tasting, but it can also bring a lot of health benefits to you and your family. Ionized water can rehydrate your body and get rid of toxins that have accumulated over the years.
Why Should You Purchase A Water Ionizer?
Alkaline water has been used as a treatment for cancer patients since the 1940s.
In one study, researchers found that drinking alkaline water was associated with a reduction in the number of tumors in mice with colon cancer.
Another study showed that people who drank alkaline water had fewer stomach ulcers than those who didn't drink alkaline water.
Why Do We Care About pH?
Our bodies are made up of different chemicals. These chemicals work together to keep us healthy. If any of them become imbalanced, our body's natural defense system kicks in to balance things out. This is called homeostasis.
When our blood becomes too acidic (lowered pH), our internal chemical balance shifts toward an overabundance of hydrogen ions. Our cells then start to die off.
When our blood becomes too basic (high pH), it starts to pull away from the oxygen in our bloodstream. Oxygen is what keeps our cells alive. Without oxygen, our cells begin to die off.
The most common way that your body loses alkalinity is through breathing air that is polluted with carbon dioxide and other gases. Breathing air that is high in CO2 pulls away from the oxygen in your bloodstream. As a result, your blood becomes too acidic and begins to kill off your cells.
How Does It Work to Reduce the Risk of Cancer?
The human body needs a certain amount of alkalinity to function properly. When your blood becomes too acidic, your immune system doesn't function well. Your body no longer recognizes foreign invaders such as viruses and bacteria.
Your body stops producing white blood cells, which are responsible for fighting infections. If you don't produce enough alkalinity, your body will not be able to fight off these diseases.
What Happens if My Blood Gets too Acidic?
Your body will try to correct this problem by reducing acidic water and pulling more alkaline minerals into your blood. Alkaline minerals include sodium, potassium, magnesium, calcium, iron, zinc, copper, selenium, boron, silica, and phosphorus.
These minerals can be pulled from bones, teeth, hair, nails, skin, and muscles. They can also be pulled from your kidneys, liver, and pancreas.
The organs that store alkaline minerals are the ones that are most likely to suffer damage when they're deprived of alkaline minerals.
This is why many doctors believe that chronic kidney disease is caused by low levels of dietary alkaline minerals.
The Recommended Amount Alkaline Water
People sometimes ask about the amount of water that they should drink each day. Doctors recommend 6-8 glasses of water each day. What is important, though, is that the water is of high quality and optimal pH level. Even most bottled water being sold today has a high level of acidity.
Nutritionists, fitness experts, and doctors want to provide consumers with the best options for maintaining optimal hydration. The body, in fact, contains acid and alkaline balance. For instance, the blood must be approximately 7.365-7.45 in pH, while the saliva must have pH levels of 7-7.4.
The urine, in turn, must have a pH level of 6.9. Thus, depending on the type of food/drink and how much of it you consume, you will determine how much water you must take and what pH it must possess.
Americans consuming a standard diet are possibly more acidic than they should be. Thus, their best choice for a drink would be alkaline water.
The amount that an individual will need to drink depends on their activity levels and the climate. Active folk living in areas with warmer climates require more water than individuals who live sedentary lives in areas with a moderate climate.
Keep in mind that thirst is not a great indicator of whether the body requires more water or not. Studies have shown that more than 70 percent of the North American populace is dehydrated and that this dehydration, in turn, affects overall health.
Several of these individuals drink bottled water, yet they still feel dehydrated. It seems that the body is actually not into acidic bottled water and tap water. Thus, it does not get absorbed by the body effectively.
Consumers have to change the water that the body gets rid of. The body makes use of 2-3 liters of water just to regulate metabolic procedures and digestion.
Scientists have claimed that a 2 percent reduction in body water volume can result in weak digestion, constipation, muscle spasms, aching joints, headaches, confusion, and even short-term memory loss.
Thus, the water you require for the best possible health is half of your body's overall weight in ounces each day. If, for example, you weigh 120 pounds, you need 60 ounces of alkaline water, and if you weigh 180, you need 90 ounces and so forth.
Furthermore, suppose you work out or play sports. In that case, you need to add several more ounces of water every 15 minutes while doing your routines and for approximately an hour following your activity.
Doing this will prevent exhaustion and soreness. Your recovery period will be shorter if you follow proper hydration methods.
Conclusion
If you are looking for the best source of water, then you cannot go wrong with alkaline water. This kind of water has been proven to help people lose weight, lower cholesterol, prevent heart disease, improve skin conditions, boost energy levels, reduce stress, and keep the immune system strong.
They also ensure that the water is free from impurities such as chlorine, fluoride, heavy metals, pesticides, herbicides, bacteria, viruses, and other harmful substances.
These machines are available at reasonable prices. However, some models may cost more than others. You should therefore do some research before buying one. Also, make sure that the unit has been tested and certified.
You can buy them online or offline. Offline purchases allow you to try various models before making your final decision. Online purchases, however, are more convenient because you can compare different brands and choose the one that suits you best.