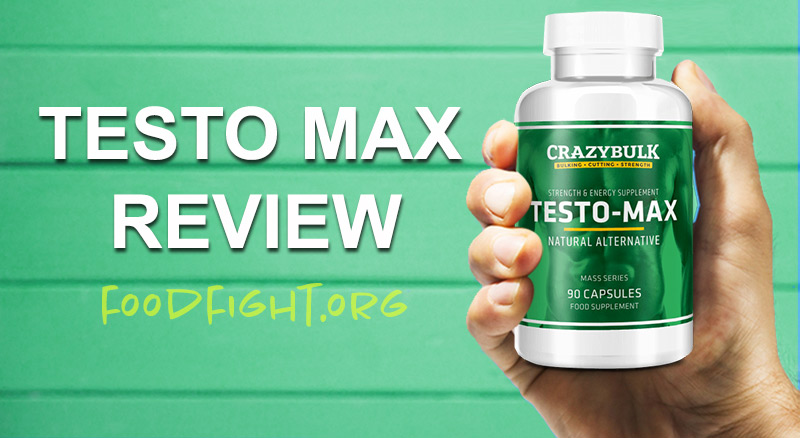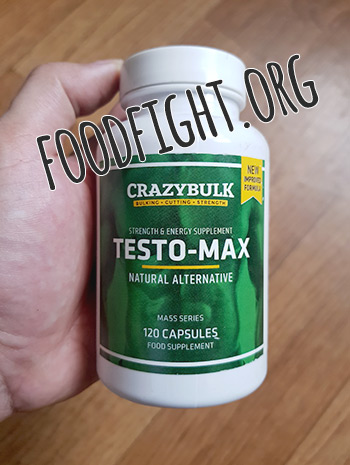 Testo Max is a testosterone booster supplement that is seriously stacked with proven compounds that will help your body to elevate its production of testosterone naturally.
The extra surge in testosterone is designed to provide incredible gains in lean muscle mass. This product also offers estrogen suppression, and in vascularity.
The manufacturer also claims that users will notice remarkable increases in libido and great improvements in the quality of sperm (although we are unsure how this is exactly assessed by an individual!).
This product is a new formula and has been developed by a company called Crazy Bulk.
---
Testo Max Ingredients and Nutrient Profile
Testo Max features high quality ingredients that when combined, are designed to help men skyrocket their testosterone levels in a safe and natural manner.
Vitamin D3 (5000 IU)
Vitamin D3 is an essential mineral often associated with sunlight, and rightfully. So, vitamin D is synthesized when the skin is exposed to direct sunlight.
It interacts with many things inside the human body, including offering support to the skeletal structure, as well as enhancing the mood.
One study involving a 3,332 IU of vitamin D3 supplementation for a year found testosterone levels increased from 10.7±3.9 nmol/l to 13.4±4.7 nmol/l, and this included bioactive, as well as free testosterone.
Testo Max contains 5000 IU of vitamin D3, much more than what was administered in the study.
Vitamin K1 (20 mcg)
Vitamin K1 (as Phytonadione) is rarely mentioned in mainstream media. This vitamin plays a central role in many areas of human health. It is an essential vitamin responsible for (just like vitamin D3) maintaining good bone health, as well as averting blood clotting.
Unlike vitamin K2, which is derived animal foods and fermented foods, vitamin K2 is derived from from leafy vegetables.
According to a rat study, a 5-week supplementation managed to increase circulating testosterone from the second week onwards by two-fold.
Vitamin B6 (20 mg)
Vitamin B6 (as pyridoxal 5 phosphate) is naturally present in many foods. The human body needs this vitamin for more than "100 enzyme reactions" concerned with metabolism.
Vitamin B6 also promotes brain development during infancy, as well as reinforcing the immune system.
Vitamin B6 has shown to boost the growth hormone immediately after exercise, as demonstrated in this study.
Magnesium (200 mg)
Magnesium (as magnesium citrate) is a dietary mineral, and a deficiency in this vital mineral in developed countries is skyrocketing. A magnesium deficiency can trigger high blood pressure and reduce insulin sensitivity.
Studies have noted that magnesium can help lower glucose levels.
Another study noted "significant improvement during extreme physical stress", which may mean better exercise sessions.
Bone mineral density improved after magnesium supplementation, as shown here, as did muscle oxygenation, meaning enhanced athletic performances, noted in this study.
Zinc (10 mg)
Zinc (as zinc citrate) is an essential mineral concerned with regulating different types of enzymes.
Typically, zinc is lost through sweat during exercise.
This possibly explains why testosterone levels are at a low ebb after strenuous exercise.
Zinc is a natural aphrodisiac, as well as a testosterone enhancer, especially if you already suffer from a zinc deficiency.
One study involving infertile men for 6 months who were administered with zinc daily found their circulating testosterone benefitted immensely from zinc supplementation.
D-Aspartic Acid Calcium Chelate (1600 mg)
D-Aspartic Acid Calcium Chelate is a regulator of testosterone synthesis, as well as helping to promote male fertility.
It operates in the central brain region and encourages the release of certain hormones such as luteinizing hormone, growth hormone, and follicle-stimulating hormone.
According to a study, a daily 2.66 g of d-aspartic acid supplementation for 90 days saw increases of up to 60% in serum testosterone. D-Aspartic Acid is central to Testo Max's testosterone enhancing capabilities.
Asian Red Ginseng 4:1 Extract (Root) (120 mg)
Asian Red Ginseng 4:1 extract (root) belongs to the ginseng family and is believed to promote the mood, cognition and immunity.
Other benefits people enjoy from this incredible herb include powerful erections and enhanced exercise performance.
According to this study, ginseng was able to increase testosterone, as well as DHT, without influencing prolactin.
Fenugreek Seed Extract (500 mg)
Fenugreek Seed Extract is a type of plant normally found in parts of India and the Middle East. Its traditional uses include libido enhancement.
In recent years, fenugreek has been the subject of a number of studies, and one in particular noted its ability to increase both bioavailable and testosterone, after supplementing for six months.
Moreover, fenugreek is also a potent libido enhancer, as highlighted here.
Nettle Root 4:1 Extract (40 mg)
Nettle Root 4:1 extract is a horrible plant to touch, but its oral consumption offers plenty of benefits.
Nettle root provides anti-inflammatory properties, and it can also help reduce sniffles.
However, this ingredient does NOT affect testosterone.
BioPerine® (5 mg)
BioPerine® derived from black peppers, is increasingly being used in supplements to enhance absorption of peer ingredients.
Boron (8mg)
Boron (as boron amino acid chelate) is a dietary mineral that is suspected of increasing testosterone levels.
According to one study, a 6-day supplementation of boron saw decreases in estrogen and increases in free testosterone.
Testo Max Effectiveness
Most testosterone boosting supplements require a build-up period of between two and four weeks before the user notices results.
Users of Testo Max, however, almost universally report tangible results almost immediately. For many of them, this is evidenced by erections upon waking in the morning.
In fact, increased libido is usually the first thing to be noticed. Energy levels pick up pretty much straight away, allowing users to overcome that mid-afternoon slump.
Even though it is not marketed directly as a libido enhancer, that doesn't mean that Testo Max won't provide these benefits. It does.
In fact, after increased muscle and strength, libido increase is the most common effect reported by online reviewers. Energy levels noticeably improve after 2 weeks of continued use.
→

 CLICK HERE to Get A Limited Time TESTOMAX Offer – BUY 2 GET 1 FREE
The Dosage
Testo Max comes in tablet form. The recommended dosage is four tablets per day.
Users have reported good results by taking one pill with each of their three main meals of the day, and taking the fourth tablet when they get home from work.
Possible Side Effects
There are no known reported side effects from using Testo Max.
However, several people might experience mild diarrhea at the initial stage of use.
Testo Max Cost
Testo Max can be purchased online for $59.99 for a bottle of 120 capsules.
At four tablets per day, a full bottle will supply your supplement needs for one month at a daily cost of $1.99 per day.
It should be kept in mind that, because Testo Max includes such a wide array of constituent ingredients, it is quite conceivable that you will be able to eliminate other products from your supplement range when using this product. This will reduce your overall monthly supplement bill.

Conclusion and Overall Rating
Testo Max is simply one of the best natural testosterone boosters that we have ever encountered after Testogen.
It delivers all of the heavy hitter ingredients combined in a proprietary blend and enhanced with Bioperine to provide for maximum absorption.
It gives you everything that you get with Testogen – and then adds four more proven ingredients to provide that extra edge. Guys with low testosterone need look no further than Testo Max.
And if you want to build muscle, this product is the real deal!